Superior prospecting service
Leadvisor provides superior tools for acquiring new ideal customers by leveraging information from existing customers. This will ensure that the new ideal customers are similar to the best existing customers, ie buy more and renew their orders.
Updating and enriching the customer register is also easy and comprehensive at Leadvisor: our database contains more than 30 different types of information related to organizations, such as contact information, financial information and decision maker information.
Leadvisor also has comprehensive tools for managing the entire sales process, from prospecting to invoicing.
Matrix groups
Leadvisor presents valuable prospecting data into a Matrix Group view so that you can scan and select preferred prospects quickly and with just one click.
We do this by importing customer history and presenting prospects based on their analyzed turnover and industry.
Once your customer history has been uploaded to Leadvisor and imported to the Matrix Group, the number of prospects can be filtered, for example, to include only companies with a low-risk category and/or those with a marketing decision-maker -tag.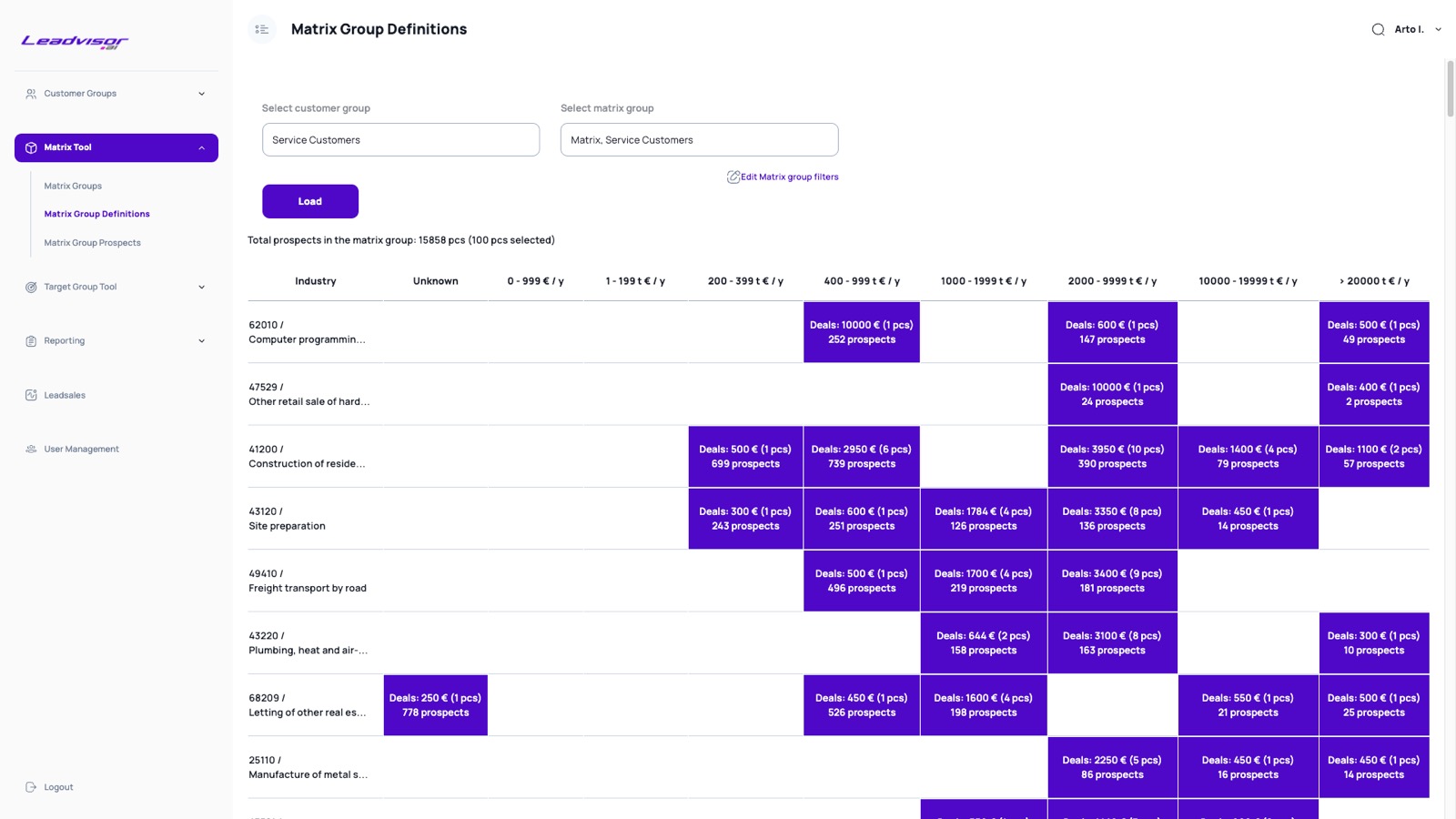 Target groups
If the customer history is not available or you would like to target sales to new audiences, Leadvisor's Target Groups is a very effective help. In the target groups, the segments of the target groups are formed using filters such as turnover, industry, risk category and decision maker information. In total, about 30 different filters are available.
Once the segmentation of the target groups (ideal customer profile, ICP) is done, Leadvisor shows how many prospects there are in the segments of the different target groups. The preferred prospects can then be deployed either with the Leadsales sales application or exported as a file to an external sales system or to the CRM used.
Like the matrix groups, it is also possible to utilize the customer register in the target groups, which also provides very accurate information on whether sales and marketing have been made in the past to the target groups or outside them. Naturally, the existence of the best clients in the most important target group segments ensures that the value expectation of prospects selected from the same segment is the highest.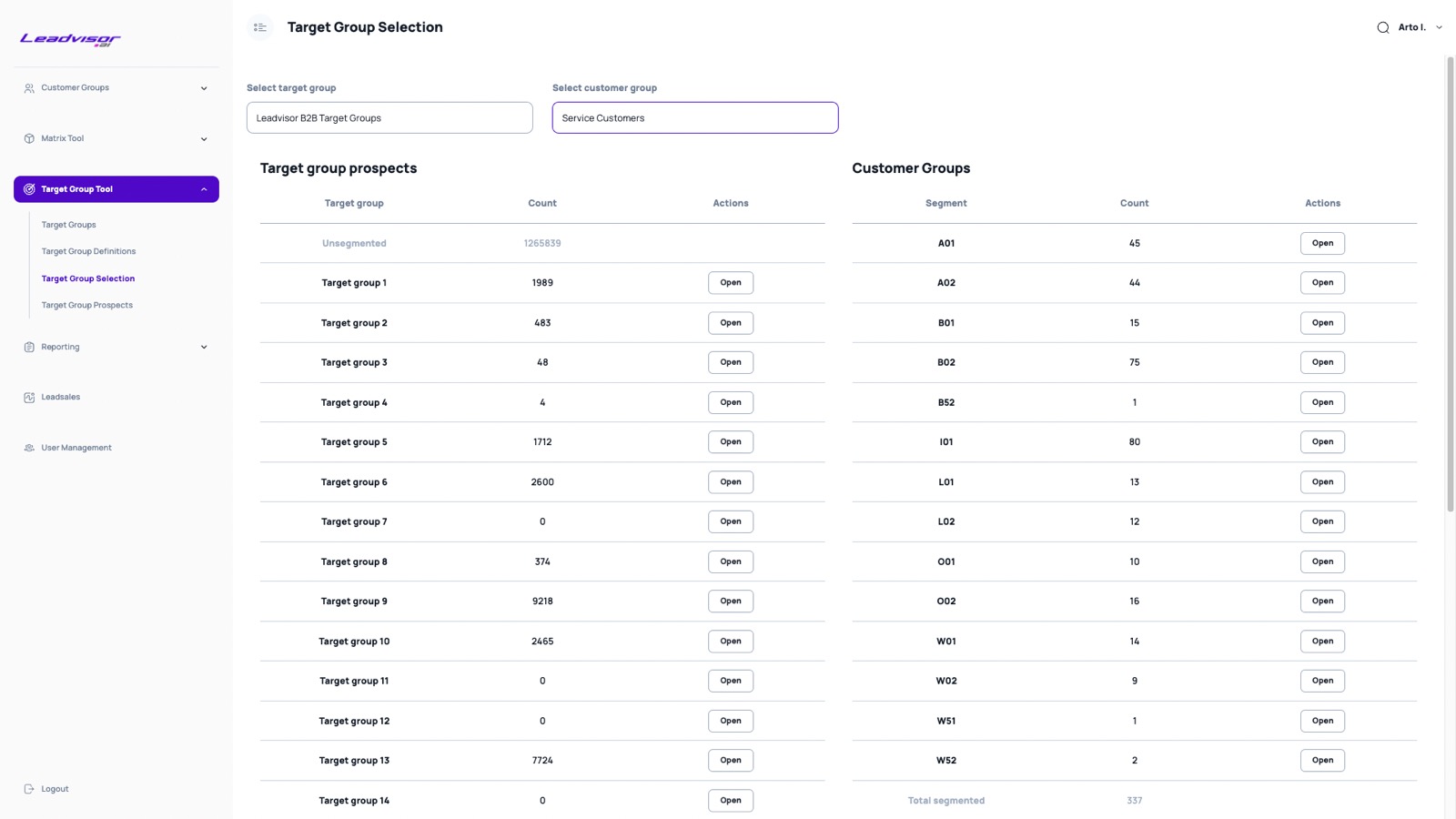 Search features for companies, decision makers and contacts
At Leadvisor, it is possible to do individual searches for companies, decision makers and contact information, such as phone numbers. Everyone who has done sales work knows that sometimes they also have to do undercover police work in order to find the necessary contact information.
The Leadsales application
Leadvisor also includes a sales-enhancing Leadsales application that covers the various stages of B2B sales, from prospecting contacting, offer sending, and invoicing management to tracking trade receivables.
Leadsales' biggest advantages are that it is part of the Leadvisor service, which enables efficient sales management in one system as well as automation, which enables, for example, automated invoicing by connecting to an existing invoicing system.
B2B-target groups
Are you missing sales target groups? Focusing on a specific target group helps develop effective strategies that help with marketing and communication efforts. Focusing on marketing to your target group will not only save money and time but will also allow you to understand the needs of your potential customers better. By accurately defining you target audience, your company will be able to market and sell its products to companies that are most likely to become customers. In other words, target groups help a company find its true growth potential whilst keeping the company competitive in the marketplace.
Updating your customer register
Updating your current customer register is one of the most important sales and marketing tasks. Your own customers are one of the best target groups to whom you can market and sell more of your services or products. These customers are already familiar with your business and typically you'll find it easier to sell new services to them than to acquire new customers. By keeping your customer register up to date, you are making sure that you are communicating to the right customer representative.
However, just updating your customer information isn't enough, if you want to maximize the benefits of your customer registry and minimize risks. We have services for your business that help you track, update, and enrich your current customer information.
How can I use Leadvisor?
Leadvisor runs on a web browser (SaaS), so your company can quickly activate the service, without purchasing new equipment or installing new systems. Before placing an order, the service is run through with the customer in a personal meeting or web meeting. After the meeting the customer receives an order confirmation and main user login. The service can be immediately activated with a login. After the meeting, we will send the customer an offer by e-mail. After the offer is accepted, we will send an order confirmation, which will contain the main user login information. The service can be immediately activated with the login.
You can create an unlimited amount of user profiles in Leadvisor. The service has three user levels for a sales organization: main user (i.e. sales director), admin users (sales manager who does prospecting) and user.
How do I use Leadvisor to increase sales?
Leadvisor is a user-friendly tool for data-driven sales prospecting in B2B selling. The information generated by Leadvisor is based on a data-driven analysis of the company's existing database, which is then utilized in prospecting ideal customers. Data-driven sales prospecting requires the company have existing customer and/or sales data. If you don't have data, you can acquire it by using Leadvisor.